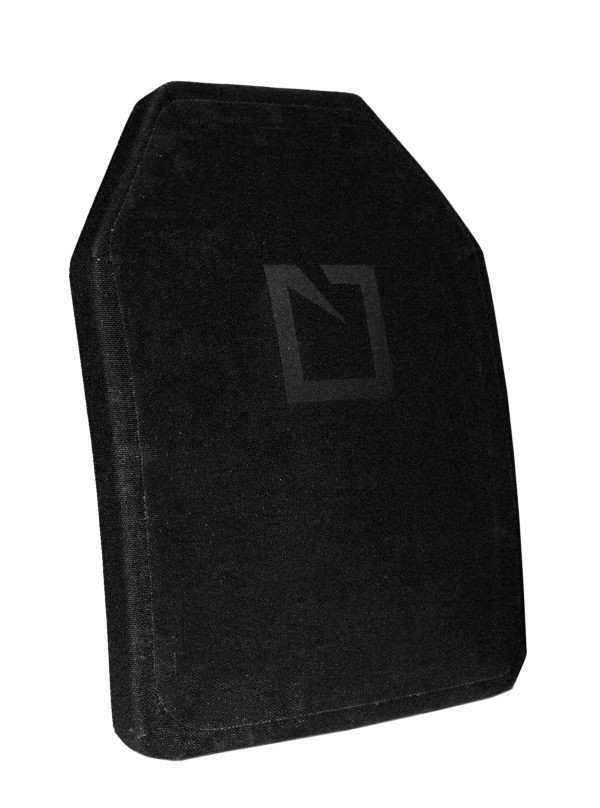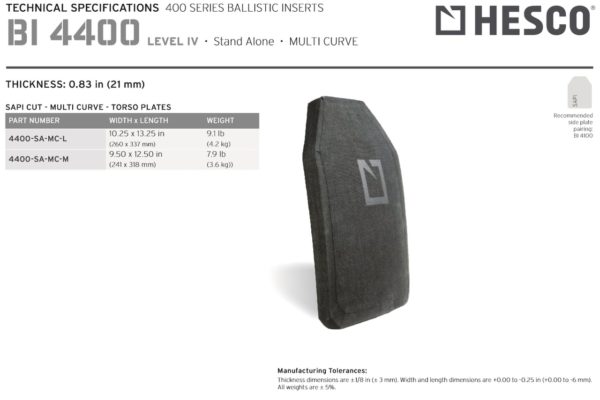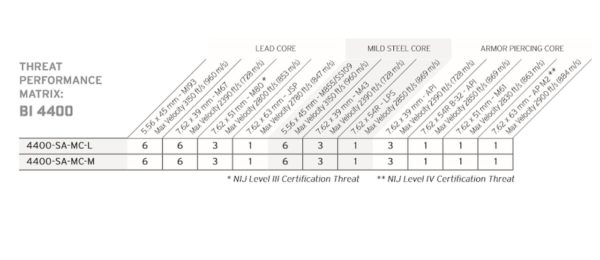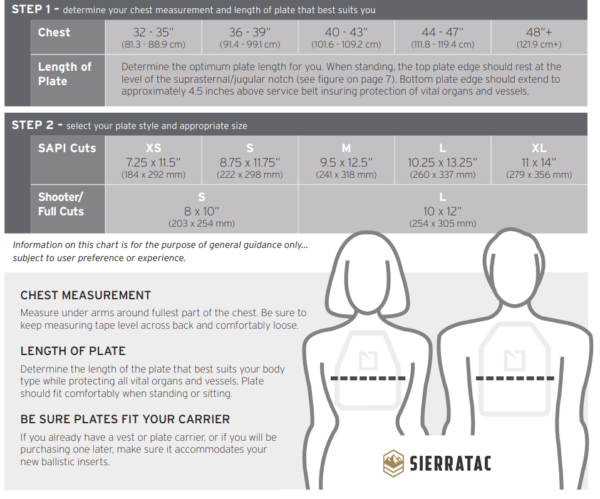 In stock
HESCO 4400 – 400 Series Armor Level 4 Stand Alone Plate (PAIR PRICING)
$432.00 – $468.00
The HESCO 4400 is the ultimate in durable protection when it is needed most. Highly durable, compact plates for rapid preparation and response.  Plates are sold in pairs.  /// (PAIR PRICING) ///
Description

Additional information
HESCO 400 Series Plates:  BI 4400
The 400 series plates provide cost-effective, lifesaving protection ideal for those responding to volatile active shooter scenarios.
Finished with a Cordura nylon wrap, the 400 series armor is highly durable, water-resistant and has enhanced resistance to tear and abrasions.
Engineered to be cost effective without compromising on quality. When involved in an active shooter situation, the plate wearer can stand strong and confident knowing they are being protected by the very best!
The HESCO 4400MC Level IV Plate Armor is capable of stopping up to 30-06 AP round and it provides the best protection class that is capable of defeating serious armor-piercing ammunition, NIJ protection levels can be learned in much more detail here.
The 4400MC is compatible with BI 4100 and BI 4101 Level IV Side Plates to complete the protection zone. The side plates can be elevated to protect the heart against side shots.
HESCO 400 Series & 4400MC Level IV Armor Plate Features
Advanced composite materials
Highly durable, water resistant Polyurethane coated Cordura fabric finish
Stand alone
Full spectrum protection
Cost-effective Ceramic/Composite design
About HESCO Armors
HESCO products have been protecting brave men and women in the military for more than 20 years. HESCO products are engineered to exceed the rigorous National Institute of Justice (NIJ) standards.
Tests are conducted at world-class laboratories under the most stringent protocols to ensure your armor provides complete protection.
Tests Include:
KINETIC IMPACT INCLUDING BALLISTIC, BLAST, FRAGMENT, STAB
OPERATIONAL DURABILITY INCLUDING DROP IMPACT, VIBRATION, SHOCK
UV AND TEMPERATURE EXTREMES
CHEMICAL, FUNGUS AND FLUID RESISTANCE
ALTITUDE
X-RAY INSPECTION
BUOYANCY
COMFORT AND ERGONOMICS
Only The Best Cutting-Edge Materials
Hesco Ballistic Inserts are manufactured to the highest quality standards at our state-of-the-art facility in Aberdeen, Washington, USA.
HESCO specializes in the research, engineering, design, production and fulfillment of body armor solutions, using only the finest materials available, so you can rely on the performance you expect when it counts the most.
A properly fitted torso plate should not interfere with the comfortable movement of the arms and shoulders. If a plate is too large, it can impede mobility and result in difficulty holding, aiming or discharging a weapon which can result in fatigue and inaccuracy.
The HESCO 4400MC Level IV Armor Plate could be the difference between life and death and reason you survive the most serious armor-piercing cartridges out there, all the way up to 30-06 AP, it provides the best protection class of level IV and it is made by HESCO, who is in this business for more than 20 years, so you can be confident in the most daring situations that this armor plate got you covered!
Specifications
Weight: 7.9 lb./3.6kg (0.83"/21mm)
Protection: Level IV; up to 30-06 AP
Material: Ceramic/Composite
Color: Black
May be paired with Rifle Rated Side Plates Available: HESCO Rifle Rated Side Plates
Tested and verified to meet or exceed ballistic resistance as specified under NIJ Standard-0101.06 plus Special Threats validated.
Note: export regulations apply, sold only to verified purchasers.  Prices are for a pair of plates.
Please read our Armor Order Page prior to initiating an armor sale.
| | |
| --- | --- |
| Weight | lbs |
| Dimensions | N/A |
| Plate Size | 10.25×13.25 Large SAPI Cut, 9.5×12.5 Medium SAPI Cut |