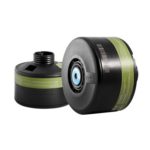 Avon Protection: CBRNCF50 (Each)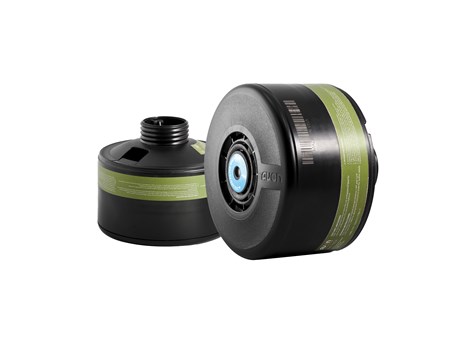 In stock (can be backordered)
Sale
Avon Protection: CBRNCF50 (Each)
Avon CBRNCF50 (Each) The Avon CBRNCF50 canister meets the NIOSH CBRN APR…
Avon CBRNCF50 (Each)
The Avon CBRNCF50 canister meets the NIOSH CBRN APR standard at the 15-minute classification level (CAP 1), the EUROPEAN STANDARD, EN 14387 (A2B2E2K1P3), and the relevant criteria specified in the NATO AEP-73 for protection against chemical and biological warfare agents in aerosol and gas/vapor form.
It provides effective protection against all the gaseous agents specified in the NIOSH CBRN standard, as well as excellent performance against a wider range of both chemical warfare agents and Toxic Industrial Chemicals (TICs). A particulate filter element exceeding the requirements of NIOSH 42 CFR Part 84 P100 and EN 14387 (P3) is incorporated, ensuring effective performance against all dusts, mists, fumes, biological agents (bacteria, virus, fungal spores, etc.), including radioactive dusts. When combined with an appropriate chemical protective mask, the CBRNCF50 filter canister protects the face, eyes, and gastrointestinal tract of the wearer against known chemical and biological agents in aerosol, liquid, and vapor form including:
| | |
| --- | --- |
| Nerve Agents: | Blood Agents: |
| "G" Series | Hydrogen Cyanide |
| "V" Series | Cyanogen Chloride |
| Any thickened form of agent | |
| | |
| Blister Agents: | Riot Control Agents: |
| Mustard | CS |
| Lewisite | CN |
| Any thickened form of agent | OC (Pepper Spray) |
The protection against many Toxic Industrial Chemicals (TICs) includes, but is not limited to: organic vapors with a boiling
point over 65°C, chlorine, hydrogen sulfide, sulfur dioxide, formaldehyde, nitrogen dioxide, phosgene, phosphine,
hydrogen chloride, hydrogen fluoride, methlyamine, and ammonia.
PERFORMANCE
Breathing resistance
45mm of H2O @ 85 l/min (typical)
EFFECTIVENESS
Against Chemical and Biological Agents
Typical performance against the gaseous agents specified in the
NIOSH CBRN APR standard, chemical warfare agents and also
for industrial agents TIC/TIMs is detailed below.
See Avon Protection for details regarding filter function, protection, and environmental standards.
Compatible with Avon Protection C50™ Air Purifying Respirator only.
Some images shown with optional accessories, sold separately.
If you are ordering in bulk for a MIL/LEO unit, please contact [email protected]
Avon Protection items are not returnable.  Please contact us if you need support or have questions prior to the order.
This product is controlled by the U.S. Government and may not be exported, sold, transferred, transported or shipped outside of the U.S., either in their original form or after being incorporated into other items without first obtaining approval from the U.S. government or as authorized by U.S. law and regulations. Avon Protection products are subject to the Export Administration Regulations (EAR) with Control Classification Number (ECCN) 1A004.