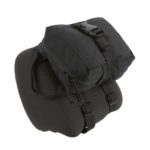 Spiritus Systems: Lazarus Headrest Kit
Description

Additional information
The Lazarus Deployable Headrest System is a simple, yet effective solution for storing easy-to-access to medical equipment in one convenient package.
The Lazarus Deployable Headrest System mounts to the any headrest in your vehicle and can be deployed by either the passenger or driver quickly and safely. The pouch deploys from either side, making it a great option for use in police cruisers, where there is often a protective shield that divides the rear compartment from the front of the vehicle. It also makes it easy for any passenger to deploy the kit from either seat.
Americans spend a substantial amount of time commuting in their vehicles. Consequently, car accidents are a leading cause of both injury and death in America. We are much more likely to experience a situation requiring medical response than any other emergency scenario we train and equip for, highlighting the need for ready-access medical equipment. Police offices and first responders spend almost all of their working hours patrolling in their squad cars and responding to traumatic events. It only makes sense to keep medical equipment in your vehicle easily accessible and easily identifiable if you are providing immediate care and directing a bystander to retrieve your medical supplies.
The pouch fully opens, allowing you to fully access to your contents. It also lays flat, creating an easy work space while retrieving parts from the kit. The pouch is loop field lined and accepts the entire line of our Pouch Insert Suite for better organization of contents.
This kit comes as a two piece system: the Pouch and the Head Rest Chassis. Simply mount the Chassis to your headrest and slide the Lazarus Pouch into the adjustable 1 Inch Strap. To deploy, pull one of the two handles and the pouch will break away from the Chassis, ready for use.
Comes in Jet Black.
Some images shown with optional accessories, sold separately.
If you are ordering for a MIL/LEO unit, please contact [email protected]
| | |
| --- | --- |
| Weight | .25 lbs |
| Lazarus Headrest Kit | Lazarus Headrest Kit |